WELCOME TO MODERN LITURGIC
ALL NEW ADVENT-CHRISTMAS CARDS
4 x 6 in folded, handmade letterpress Advent-Christmas cards

Premium off-white cardstock paper

Gold metallic ink

Handprinted on an 1894 Chandler & Price Platen Press at Bayview Printing Co. in Milwaukee, Wisconsin

Selling in packs of 5 and 10
Introducing our Saints' Collection!
8 x 10 inch wall print

Premium off-white cardstock paper

Gold metallic ink

Handprinted on a 1947 Vandercook Printing Press at Bayview Printing Company in Milwaukee, Wisconsin.
LITURGICAL YEAR COLLECTION
FEATURED SAINT OF THE MONTH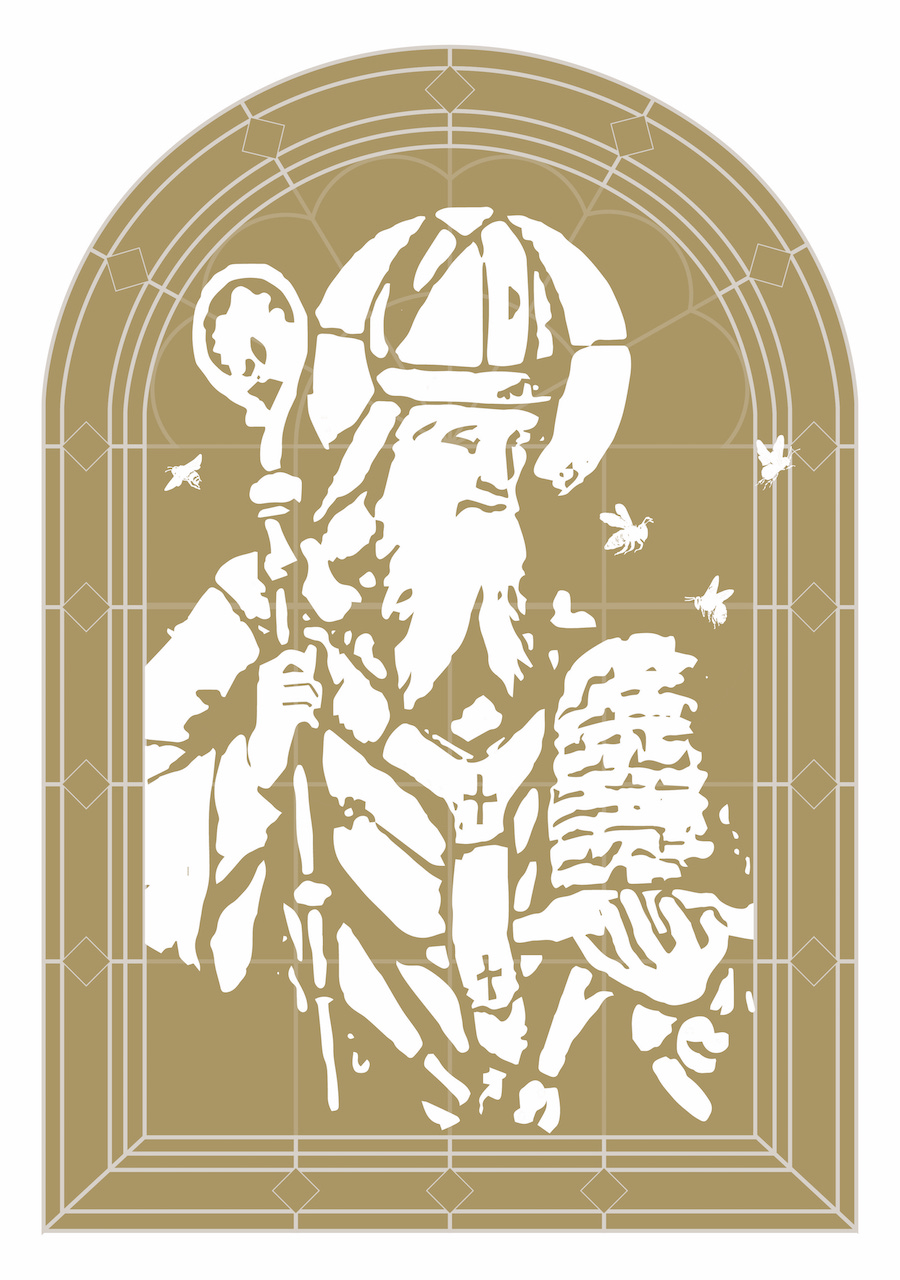 Ambrose, Bishop of Milan, 397
Commemorated on December 7th.
The Bishop of Milan in the 4th century, Ambrose authored many of the Church's important writings and hymns, including the Antiphonal Chant. When the people elected him bishop by popular demand, the untrained Ambrose ran away, feeling ill-equipped for the role—but a colleague gave away his whereabouts. The new bishop donated all his land and money to the poor, giving him political leverage over even the emperor, and defended Christianity against the heresy of Arianism. Notably, he baptized Augustine, who was influenced by the orator's compelling sermons.
Be who God meant you to be and you will set the world on fire.
Even on the cross He did not hide Himself from sight; rather, He made all creation witness to the presence of its Maker.
Let us be careful shepherds watching over Christ's flock. Let us preach the whole of God's plan to the powerful and to the humble, to rich and to poor, to men of every rank and age, as far as God gives us the strength, in season and out of season.
We become what we love and who we love shapes what we become. If we love things, we become a thing. If we love nothing, we become nothing. Imitation is not a literal mimicking of Christ, rather it means becoming the image of the beloved, an image disclosed through transformation. This means we are to become vessels of God's compassionate love for others.
Persevere in labors that lead to salvation. Always be busy in spiritual actions. In this way, no matter how often the enemy of our souls approaches, no matter how many times he may try to come near us, he'll find our hearts closed and armed against him.
Christianity is not a matter of persuading people of particular ideas, but of inviting them to share in the greatness of Christ. So pray that I may never fall into the trap of impressing people with clever speech, but instead I may learn to speak with humility, desiring only to impress people with Christ himself.